BE(Hons.) FIEAust, Master NLP Practitioner, Master Results Coach, Performance Consultant & Author
Welcome to my blog. This is my online "home" where I share tips, strategies and other resources to help you get the most out of your work life and life in general.
I have been interested in personal development and self-help since, as a youngster, I resolved to get the very most out of life, making the most of every moment that I had, no matter how bad or good those moments might turn out to be.
Now, of course, despite this resolution, my life has not always been a bed of roses; things have not always turned out as I hoped. And, like most people, I've made my share of poor decisions.
And I've gone through the heartbreak of losing loved ones, the concerns of being retrenched, the pain of divorce, the worries caused by severe financial difficulties and so on.
On the other hand, a lot of things have gone extremely well. And, I've made some good decisions too.
I've had the joy of parenthood and raising four incredible children, experienced rewarding relationships, enjoyed success in my professional career, reaching the level of CEO of a medium-sized business and enjoyed many adventures and memorable experiences.
These experiences include the challenges of starting new businesses from scratch, the joys and frustrations of working with clients and on major projects, the satisfaction of seeing my projects completed and, on some occasions, seeing them winning major awards.
Along the way, as well as my own discoveries, I have learned a lot from a wide range of teachers and mentors, including  my own coaches and trainers, my coaching clients, my children, my colleagues, my employees etc. And, of course, from some of the many thousands of students I have taught at various universities.
My goal with this website is to distill these discoveries and learnings, along with those that I continue to unearth, and to pass them on to you as we share a path of self-discovery.
In my earlier career as a successful structural engineer, I really enjoyed the challenge of finding new and better ways of designing and building bridges, buildings and other structures, especially as the applications of computers and new materials suddenly made the "impossible" possible.
In my work as an executive coach since starting Executive BREAKTHROUGH in 2005, working with clients from all walks of life, I have employed the same type of analytical and problem-solving skills that I developed as a structural engineer towards helping my clients overcome blockages and setbacks and build more empowering mindsets so that they can move forward in their lives, finding greater fulfilment and experiencing greater success.
And in this field of self-development, with the amazing progress made each year in understanding the workings of the human mind, many of the changes and transformations that were once thought "impossible" have become possible.
So, wherever I can, I draw on recent discoveries in the fields of neuroscience, positive psychology, energy healing, personal experience, NLP, EFT, hypnosis etc. with the goal of helping people, such as you, reach more of their full potential.
It's been extremely rewarding witnessing the breakthroughs and transformations that many of my clients have experienced, and I look on this site as a way of reaching a much wider audience, across the globe, to achieve the same thing and more.
Melbourne, Australia
"Overcoming Financial Stress"
You can learn more of my story by reading my book, Overcoming Financial Stress, and you will have the added benefit of learning some valuable lessons on how to deal with financial stress and other worries.
In this book, which is part autobiography and part self-help manual, I describe the lessons that I learned when facing a really serious financial crisis that forced me to close down a business that I had lovingly built up over a period of nearly 20 years.
While I wrote this to help those finding their financial problems a constant source of worry and concern, the same techniques can be used by anyone dealing with worries and stress of any nature.
How to deal withF
inancial

Stress

"...life-changing secrets that could be described as GOLD"
Recent posts from our blog...
Do you often feel helpless or like the world is out to get you? Do people often mention that they
Read More »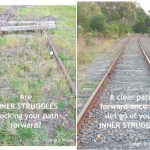 Are you finding that your INNER STRUGGLES are holding you back, making life difficult for you, reducing your likelihood of
Read More »
Are You an Intuitive or Analytical Thinker? People look at things in various ways and respond to situations differently too.
Read More »
Subscribe to keep with our latest posts
Subscribe and receive '10 Top Tips for Success' FREE e-book